Local Government Exchange and Cooperation Seminar
Local Government Exchange and Cooperation Seminar
Programme Overview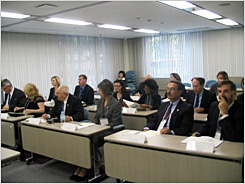 The Local Government Exchange and Cooperation Seminar is an annual programme to promote mutual understanding and forge an effective network between Japanese and overseas local governments.
CLAIR's overseas offices invite overseas local government officials to visit Japan to learn about the current situation and issues related to Japan's cities and regions.
Outline of the 2019 Seminar Series
| Overseas Office | Schedule | Hosting Japanese Local Government | Topic |
| --- | --- | --- | --- |
| Seoul | 22-29 May | Miyazaki Prefecture | Japanese Urban Revitalization Policies and Case Studies |
| Paris | 29 July - 7 August | Shizuoka City | Welfare and Safety Initiatives for Improving Residents' Quality of Life |
| New York | 4-13 November | Kitaibaraki City | Construction, Deconstruction, and Reconstruction: Creating Community Identity through Art and Recovery from the Great East Japan Earthquake |
| Singapore | 15-21 December | Shimonoseki City | Regional Development through the Promotion of Tourism and Multiculturism |
| London | 19-25 January (2020) | Tsu City | Future Investment |
| Sydney | 3-12 February (2020) | Miyakonojo City | Encouraging Local Development through Primary Industries: Local Industry Promotion |
Outline of the 2018 Seminar Series
Overseas Office

Schedule

Hosting
Japanese
Local Government

Topic

Seoul

23-30 May

Rikuzentakata City

Japan's Disaster Response and Recovery Measures

Paris

6-15 August

Kagawa Prefecture

Promoting Local Resources for Regional Development

Singapore

26 August - 1 September

Toyohashi City, Toyota City

Efforts Towards Realising an Industrially and Environmentally Advanced City through the Use of Cutting-Edge Technology

New York

28 October - 6 November

Okayama Prefecture

Industry of Okayama

Beijing

19-23 November

Nagasaki Prefecture
Promoting Nagasaki's History and Culture to Chinese Audiences

London

20-26 January

Miyagi Prefecture
(2019)
Rebuilding Through Regional Potential and Local Capital

Sydney

12-21 February
Kohoku Town
(2019)
Creating Appealing and Liveable Towns in the Face of Japan's Declining Birthrate and Aging Population
Outline of the 2017 Seminar Series
Overseas Office

Schedule

Hosting Japanese
Local Government

Topic

Paris

31 July - 9 August

Komatsu City

Regional Revitalisation in Cooperation with Local Industries

Seoul

4-8 September

Iki City

Promotion of Inbound Tourism & International Exchange which Utilises the History and Natural Resources of Remote Island Regions

Singapore

1-7 October

Kitakyushu City

Efforts towards a Low-Carbon Society

New York

6-15 November

Rikuzentakata City

How Local Governments can Promote Town Planning for All Residents, even after a Disaster, to Live a Comfortable and Secure Life and Be Proud of their Community

Beijing

27 November - 1 December

Hyogo Prefecture

Measures to Promote Tourism in Hyogo

London

8-14 January

Shizuoka City

Comprehensive Local Government Policies for Healthy Lifestyles through Local Agriculture Support and Urban Living Design for those Later in Life

Sydney

12-21 February

Higashine City

1. Town Planning and Personal Development through Child Care Measures and Education Geared Towards Population Growth 2. Efforts by Regional Cities to Encourage more International Tourists to visit by Making Full Use of Local Resources
Outline of the 2016 Seminar Series
Overseas Office

Schedule

Hosting Japanese Local Government

Topic

Paris

18-28 July

Tsuruoka City

Regional Revitalisation Efforts which Utilize Cultural and Tourism Resources in Provincial Cities

Beijing

8-12 November

Shiga Prefecture

Promotion of Tourism in Regional Areas

New York

27 November - 7
December

Shizuoka City

How Local Governments can Promote Healthy Living for All Ages

London

9-15 January

Iwaki City

Urban Renewal Five Years After the Tohoku Earthquake

Seoul

16-20 January

Kyoto Prefecture

Countermeasures against Falling Birthrates in Kyoto Prefecture

Singapore

22-28 January

Miyazaki Prefecture

"Sports Land Miyazaki" Initiative and the Advantage of Utilizing Local Resources


Sydney

12-22 February

Masuda City

Attracting International Tourists to Small Provincial Towns/Fostering Wide-Ranging Cooperation with Adjacent Cities for Tourism
Outline of the 2015 Seminar Series
Overseas Office

Schedule

Hosting Japanese Local Government

Topic

Paris
20

-

30 July

Toyooka City

1.

Tourism Promotion and Regional Revitalization through Local Arts and Culture


2.

Preservation of Oriental Stork

New

York

18

-

28 October

Miyagi Prefecture

Revitalization and Recovery Efforts after the Great East Japan Earthquake

Singapore

25

-

31 October

Kitakyushu City

Environmental Initiatives Supported by Citizens

Sydney

1-11 November

Yamato Takada City

1. Sister City Relationships and Their Impacts
2. Preservation of Cultural Properties

Beijing

16-20 November

Shimane Prefecture

Cooperation through Environmental and Economical Exchanges

London

23-29 November

Yamanashi Prefecture

Tackling Ageing Society and Shrinking Populations

Seoul

30 November - 4 December

Nagasaki Prefecture

International Exchange based on "Joseon missions to Japan"
Outline of the 2014 Seminar Series
Overseas Office

Schedule

Hosting Japanese Local Government

Topic

Paris

21-31 July

Niseko Town
Building a Town through Citizen Participation and Information Sharing
-Towards an International Tourist Resort and an Environmental City -
London

7-14 October

Kumamoto City

Regional Developments after the Opening of Bullet Train and Becoming a Designated City

New York
19-29 October
Amagasaki City
Promoting Amagasaki City through its Local Resources
Singapore
9-14 November
Kagoshima Prefecture
Overseas Industrial Promotion by Kagoshima Prefecture
Seoul
11-14 November
Toyama Prefecture

Senior Citizens' Welfare in Toyama Prefecture

Sydney
16-26 November
Sakaide City
Utilizing Regional Resources for Manufacturing, People Development, and Town Development
Beijing
27-31 January (2015)
Nagano Prefecture
Citizens' Longevity and Health Development in Nagano Prefecture
Outline of the 2013 Seminar Series
Overseas Office

Schedule

Hosting Japanese Local Government

Topic

Paris

28 July -7 August

Hiroshima City & Kumano Town

Hiroshima:

Efforts towards World Peace and Abolishing Nuclear Weapons
Kumano: Development of Japanese Brushes as Local Industry
Singapore

6-11 October

Tottori Prefecture

Economic Exchange with Southeast Asia

New York

27 October -5 November

Tokushima Prefecture

Boosting International Tourism by Utilizing Local Resources

London

17-23 November

Miyagi Prefecture

Economic Recovery Efforts after the Great East Japan Earthquake in Miyagi Prefecture

Beijing

24 November -1 December

Ise City & Taki Town

Tourism Promotion: Utilizing Historical & Cultural Assets and Engaging Students

Sydney

2-12 February (2014)

Aomori Prefecture

Local Promotion through School Trips and Winter Tourism

Seoul

17-21 February (2014)

Seika Town

Kansai Science City: Transformation through Arts and Sciences
Outline of the 2012 Seminar Series
Overseas Office

Schedule

Hosting Japanese Local Government

Topic

Paris
22 July -1 August
Kitakyushu City

Urban Green Development Policy and a Sustainable Society

Singapore
30 September -7 October
Sakai City

Harnessing Historical Heritage and Traditional Industries by Tourism Policy

Sydney
28 October -7 November
Aichi Prefecture

1. Promotion of Aichi through Culture, Arts, and Tourism

2. "Eco Mobility Life" - an Environmental Friendly Transportation Initiative

New York
20-30 January
Kagawa Prefecture

Regional Revitalization and Promotion Through Harnessing Local Charms

London
5-15 February
Nagasaki Prefecture

Urban Revitalization and Nagasaki Green New Deal

Seoul

12-16 November

Kagoshima Prefecture

Promoting International Trade and Tourism
For Enquiries
International Exchange Division
Tel : +81-3-5213-1723
Fax : +81-3-5213-1742
Email : shimai@clair.or.jp