Regional International Exchange Activities
Japan-China-South Korea Trilateral Local Government Exchange Conference
Overview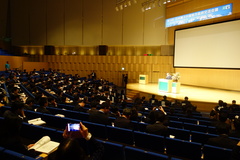 Japan, China and South Korea are historically and geographically closely related, and they share unique issues. This symposium aims to bring these three nations together to strengthen cooperation and exchange between them at a local government level. The event has been held annually since 1999 on a rotational basis.

★This Year's Conference(2019)★
Ehime,Japan(28 October - 31 October)
The closing session was held on 31 October, bringing the conference to an end.


Past Conferences
| Year | Hosting Local Government |
| --- | --- |
| 2019 | Ehime, Japan |
| 2018 | Kaifeng, China |
| 2017 | Ulsan Metropolitan City, South Korea |
| 2016 | Okayama, Japan |
| 2015 | Yiwu, China |
| 2014 | Gumi, South Korea |
| 2013 | Toyama, Japan |
| 2012 | Kunming, China |
| 2011 | Jeollabuk-do, South Korea |
| 2010 | Nagasaki, Japan |
| 2009 | Changchun, China |
| 2008 | Jeollanam-do, South Korea |
| 2007 | Nara, Japan |
| 2006 | Harbin, China |
| 2005 | Gangwon-do, South Korea |
| 2004 | Niigata, Japan |
| 2003 | Wuxi, China |
| 2002 | Seoul, South Korea |
| 2001 | Tokyo, Japan |
| 2000 | Beijing, China |
| 1999 | Seoul, South Korea |
For Enquiries
International Exchange Division
Tel : +81-3-5213-1723
Fax : +81-3-5213-1742
Email : shimai@clair.or.jp